Increase BlaBlaCar's market share within the Benelux
WE HAVE BEEN WORKING WITH BLABLACAR TO RESEARCH THE BENELUX MARKET, THEN DEVELOPING AND IMPLEMENTING A GO-TO-MARKET STRATEGY
BlaBlaCar
French unicorn BlaBlaCar was founded in Paris in 2006 and is now the world's leading community-based travel network, enabling over 90 million members to share rides across 22 countries. BlaBlaCar leverages technology to fill unused seats in cars on the road by connecting members who wish to carpool or travel by bus. This makes travel more affordable, sociable, and convenient.
BlaBlaCar has conducted several rounds of fundraising, most recently on 20 April 2021 through Convertible Notes. Since 2006, BlaBlaCar has acquired 13 organizations – their most recent being the acquisition of the French long-distance bus provider Ouibus in November 2018.
Challenges
Consumers in the Benelux had low brand awareness of BlaBlaCar

BlaBlaCar had limited knowledge of bus travellers in the Benelux, their demand patterns and local market dynamics

BlaBlaCar had no Benelux customer base that could be leveraged to fuel expansion into the region

BlaBlaCar had limited market knowledge, language capabilities, or local specialists in the Benelux
The objective of the partnership between Fish and Burger and BlaBlaCar is to increase the bus market share significantly and to establish BlaBlaCar as the go-to shared travel platform within the Benelux region.
Goals
The Benelux travel market presents an enormous opportunity. Consumers in the region are keenly aware of the impact that traffic has on the environment, and we expect to see a shift from individual cars to cleaner methods of transport including carpooling, buses, or trains. BlaBlaCar is in a unique position to capture this market through its established network, platform, and travel experience in over 22 countries.
''We began working with Fish and Burger to help us develop a Marketing & Distribution plan which will fuel our business growth in the Benelux. Their flexible mindset & access to specific local specialists is what made the difference.''
The goals for the partnership were as follows:
1. Increase bus ticket sales significantly
2. Improve brand awareness of BlaBlaCar
3. Remain ROI-positive while realising growth goals 
Deliverables
Phase 1: research & planning
Fish and Burger, in collaboration with BlaBlaCar, produced:
Market analysis for long-distance travel

Audience analysis

Go-To-Market analysis for long-distance travel

Turnkey commercial strategy

Marketing plan for BlaBlaCar's operated buses in Belgium and The Netherlands
Phase 2: implementation 
Implementation of the Go-To-Market strategy

End-to-end execution of the commercial strategy

Campaign & Partnership management
Results
Overperformed the ticket sales target.

Launched a large out-of-home campaign to reach the target audience in large cities in the Netherlands and Belgium.

Reached 5 million potential clients reached across all channels in 3 months. This contributed a lot to the increase of its brand awareness.

Stayed ROI positive.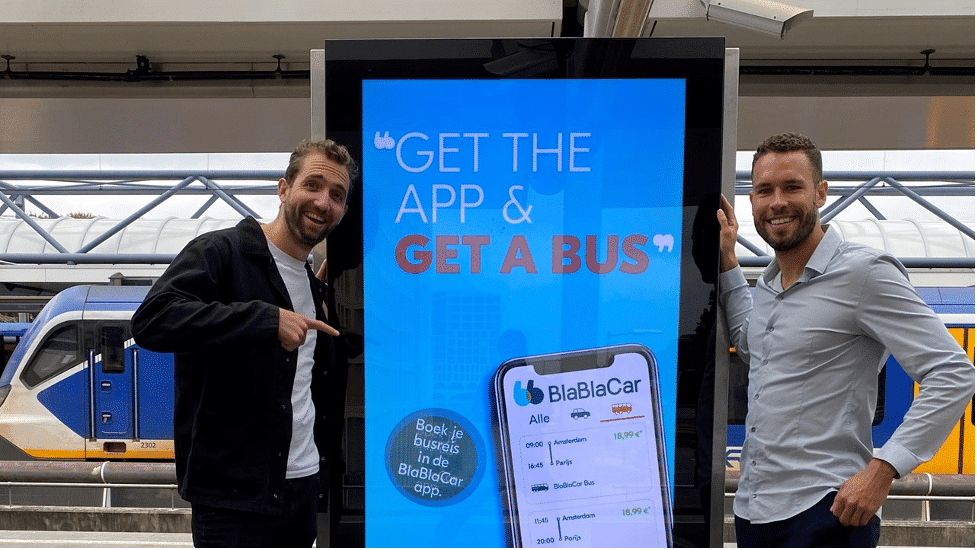 Learnings
In fast-growing companies, it's wise to bear a number of things in mind to maintain growth.
Firstly, there should be room for experimenting. Testing and learning on-the-go enables organisations to make timely adjustments as they progress towards their goals. Secondly, it's important to remain flexible and scalable, which also enables swift adjustment with as little risk as possible following unexpected occurrences (such as a lockdown). Finally, guarantee expert quality by using the best specialists in the market.